Fundraising events and activities for DASO generate much needed funds for our shelter and for our counselling/support programs for women and their children impacted by domestic abuse and/or homelessness. Your participation as a sponsor, donor, participant, volunteer or attendee will ensure the success of these events.
Would you like to organize an event on behalf of DASO? "Third party" activities help raise both funds and awareness and we appreciate the time and effort that goes into planning and hosting an event. If this is something your group or company would like to do, please download our Third Party Guidelines and Registration Form. Contact Heather at 519-539-7488 ext. 236 with any questions or to discuss your event ideas!
Visit our website regularly for news and updates. Then mark your calendars and let us know how you would like to be involved.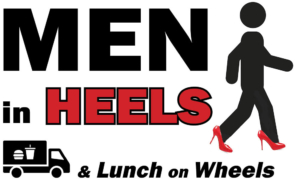 The 3rd annual Men in Heels & Lunch on Wheels took place at Museum Square in downtown Woodstock on Thursday, June 13, 2019.
Click here for an update about this fun day and successful fundraiser!